Every family faces its share of challenges, Covid 19 is the comet that hit our world hard, and decimated the Travel industry. However, all of us at the Trinetra family are doing our best to stay positive. We are trying to stay busy, working from home, identifying our strengths, creating new itineraries, updating our website, engaging with our esteemed friends on social media platforms and shaping new ideas. Mr. Tapas Banerjee, our Managing Director has poured his heart out and painted the vision of travel with a pallet of his emotions on this new blog. Read on to know his thoughts on the impact of the virus on Trinetra tours, optimism about the future of travel prospects and feelings towards his beloved Trinetra family.
Early next year (2021) Trinetra Tours will complete 3 decades of existence. The journey has been nothing short of being exhilarating and fulfilling. The organization is a collection of individuals. The ownership and top management of Trinetra has always laid a huge emphasis on inter personal relationships and fostering human values within our team and in the manner we engage with our guests. The business, the research and the growth happens on the periphery of this humanness. This cannot be a charade that we wear for our clients. Relationships ostensibly erode if they are not founded on genuineness. That is why our staff are our proudest assets. They believe in the company's philosophy and carry the message forward to our guests not because they have been taught so, but, because they have experienced this first hand during interpersonal contacts. That is why we always proudly identify ourselves as the Trinetra Tours Family.
Family ties are often tested when a calamity strikes and there is an urge to prioritise the value we impute upon each member of the family. Such a calamity confronted the world when Covid 19 and its nefarious impact became apparent. .We were not an exception. On Saturday the 21st of March we went home happy and chatting as we always do after our weekend office lunch. Little did we know then that we would not meet again. Our lives were to change forever as the Prime Minister of the country announced phased lockdowns with almost immediate effect. We had no inkling of the enormity of the problem till it actually hit us. I was reminded of the group of 150 Japanese having breakfast at the beachfront restaurant of a Yala National Park resort in Sri Lanka in December 2004. They were happy and giggling after their fruitful morning safari until they saw a 60 feet high ocean wave approaching them. Before they knew or could react one of the deadliest Tsunamis that mankind had experienced devoured them - each of them.

It was no different for us. We felt threatened and vulnerable. We had inkling that the weather was rough and partial restrictions were being placed causing our clients to abort, amend or cancel their tours for now. The intensity of the storm was not obvious to anyone including us. We all believed that this was a passing storm that would soon clear and life will resume. This was not to be.

Days and weeks passed. The numbness caused by the shock was gradually being replaced by a partial returning to senses. We were realizing slowly that the devastation ahead is seemingly endless. This in itself triggered an initial panic reaction. We were taking stock of how much 'ration' we have to keep the kitchen fire going. Is this sufficient to feed all the mouths in the family and for how long? Do we need to make hard decisions?
This is when the strength of the Trinetra Tours family became relevant. Each of us has contributed and sacrificed their bit to make the Trinetra brand. The easiest decision would have been for the management to conserve resources and let go staff. However, this contradicted with the philosophy that staff are family to the Trinetra household. Family bonds are founded on compassion and empathy. Staffs have been with us for 5, 10, 15 or 20 years. These are not just numbers, but, a measurement of time that the respective staff have dedicated to keep the Trinetra family and their clients buoyed by the feeling of happiness and fulfilment . They sacrificed a bit of themselves each day and added that to build the image of the organisation with pride and with love. Can such people be sacrificed on the altar of financial prudence ? Then, each of the team members have their own world that entails personal as well as financial commitments. School going children, ailing parents, a new bride and so on. A job is not just about money. It is about fulfilling responsibilities and receiving an identity in life.


Taking an enlightened view Trinetra Tours did not let go any staff member either immediately or even 5 months later at the time of penning my thoughts. As our mothers would sacrifice for the cause of their children, the owners of the Trinetra Tours family took substantial cuts in their salaries so as to make sure that resources were made available to pay the rest of the team their due share. This has been the trend till last month when some of the senior staff insisted that they will want a cut in their salaries to the value of the money that they are not spending in commuting to the office and the bit that they are not incurring on their daily office spends as they are following stay at home instructions. The fact that Trinetra patronized a frugal existence ensured that supplies did not immediately run out when the proverbial rainy day arrived.

The purpose of sharing the above is to state the point that I made in the beginning when I claimed that Trinetra Tours is a family where we understand and empathize with each other's situation. Without this strong family bond in the inside we will never be able to genuinely personalize our relationship with our clients while delivering a professional obligation.

I will also share how the personalizing of relationship with our clients prompts Trinetra Tours to take a compassionate and a fiercely personal view of the inconveniences and losses faced by our guests due to the Covid related restrictions that forced our guests to abort, or, amend and cancel their tours. Many companies in the fraternity have hidden behind the pretext that the Covid induced interruptions in the tour services are akin to Acts Of God over which we humans have no control. Hence, either no, or, very limited refund claims were being entertained from clients. For Trinetra Tours, every ounce of our identity is sourced to the goodness of our guests who accept and appreciate what we most humbly bring their way . Hence, if we say that guests are family we have to make efforts that convince us first that we are doing for them what we would have done for our family.

Even during lockdown conditions we fought tooth and nail from our homes to secure refunds for our guests. This was easier said than done as hotels and airlines are crushed under the weight of cancellations. However, a mix of persistence and persuasion gradually began to pay off and the refunds started trickling in . When restrictions were somewhat lifted, the office was opened 3 days a week primarily to follow up refunds and send them to our clients - many of whom were not even expecting . While the process is still underway the gratification messages that we received from guests made our eyes moist. This business is nothing but transaction of human faith. Some guests even asked us not to push hard for refunds if this entails suffering for the last man in the line as guides and drivers. The business of Trinetra is pegged on compassion. Somehow hearts connect and there is a great sense of mutual empathy between us and our clients. That is why I tell myself that if I am ever recycled back to this world, I would like to have my vocation and my chair back!

We have also had team meetings over the web and have convinced ourselves that though we might not currently have work, but, we will keep the human spirit within us flickering. A Trinetra Tours Whattsapp chat board was created and this was a wonderful forum for us to engage daily to share thoughts and lighter moments. Staff would make unique foods and recipes would be exchanged. Paintings and artwork would be shared that are made by members of the Trinetra family. The idea has been to be in touch with each other and communicate a feeling of care and closeness. None of the staff should feel left alone in his or her corner. We are all in it together.

On the other hand we have taken up a very conscious approach towards engaging with our clients. Birthday and anniversary greetings are made and these are the triggers that start of gossips that warm our hearts. It is very important in these difficult times to attribute respect to people who had made our 30 year journey so enjoyable and so successful.
We are completely alive to the fact that this is a difficult period for our vocation. We are however confident for the future and believe that for centuries man has traveled across oceans and mountains to discover new lands, explore cultures and broaden their understanding of humanity . There is no reason why this exploratory zeal would not permeate every aspect of the modern man. It is this hope that keeps us going. We are so happy to see Europe opening its border to tourism. It is amazing that till 2 months back in countries as Italy and Spain, people were left to die on the streets and treatments were being prioritized. However, today, just 60 days their lives have turned a full circle and they are beginning to travel. This is where our hope and optimism stems from. One good thing is that people who cancelled their travels for this year have all said that they would rebook for 2021.
It would be an unfathomable honor for us to have the opportunity for serving guests again, either, in India, or anywhere else in the world where we have our tours.
I am ever so pleased to share that Trinetra is also doing tours to many parts of the world. Over the last 7-10 years we have tied up with partners around the world who share our passion and loyalty towards our guests.
One could see our various tours within and outside of India by visiting the homepage of our website www.trinetratoursindia.com.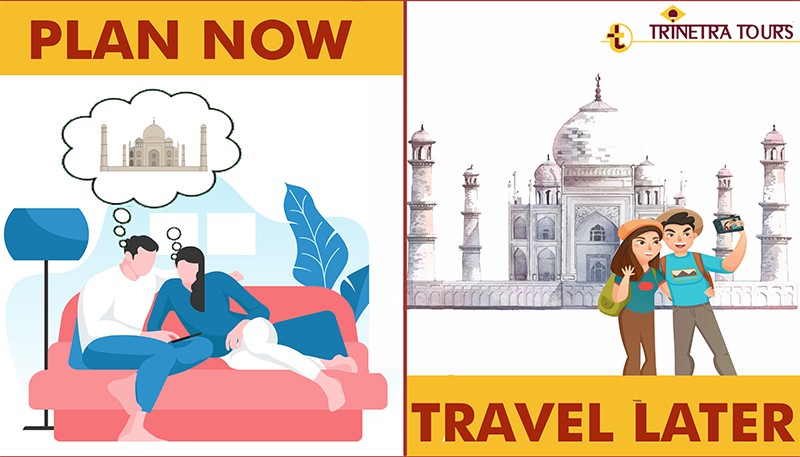 Also, Trinetra Tours are currently working on a 'Plan Now Travel Later' campaign. The idea is to keep our fingers in our vocation pie and also have the opportunity to engage with our esteemed guests because of whom we have a semblance of identity. We can plan schedules and get our appetites whetted, but, make the tour when the governments involved permit us to do so. This way our guests too, in these difficult times have an expectation of a dream vacation that they can live once the cuckoo in us is ready to sing.
I have loved sharing my thoughts as above, and, please forgive me for talking so much. I felt the need to pour my heart. As you can imagine at these times our hearts are pretty full!!!
The virus has united us in our sufferings and in our despair. Let us hope and pray that when all this is over we stay united in our joys and are able to share our feelings as well as lives with each other more uninhibitedly.