A simple solution to some of the world's most complicated problems. It just helps you to evade the confusions of life and approach the path with an open mind while the gentle cool breeze transcends your being. Now you would know the relevance of this quote "WHEN IN DOUBT PEDAL IT OUT". Besides, our venue New Delhi is the heart of India – a potpourri of diverse cultures and communities that are living here in complete harmony along with different religion. This beautiful experience enables you to enjoy best cycling tracks in delhi. Also, as someone has rightly said: "It's a fine idea to move through the world slowly, but it is probably better to do it on a bicycle ON THE WELL- GROOMED Cycling Tracks of Delhi ". So, as we cycle through the streets, we get the opportunity to witness the major highlights that this city is known for such as the India Gate, President's Palace (from outside) and Gurudwara Bangla Sahib (an important Sikh shrine, as well as one of the top rated attractions on Trip Advisor). We will also visit the Connaught Place area which reflects the aspirations of modern India. However, we will also not miss, the hidden gems such as Agrasen Ki Boali (an ancient step well) and Dhobi Ghat (Home to a community of 64 dhobis (washerman) with each man operates independently, in a neat series of steps).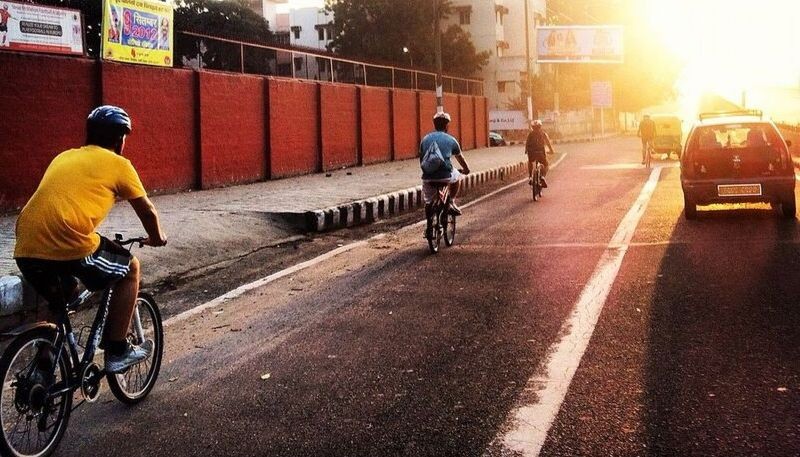 So, get on the saddle and witness the city come to life as we pass through historical monuments, and, modern Indian architecture while Cycling on the tracks of Delhi . Of course, this experience will give you a chance to discover New Delhi at a very slow yet enjoyable pace, giving you insights into the rich history of the city. We will also visit the most splendid house in India, the President's House known as the Rashtrapati Bhawan. Later, we will cycle through the street that runs from the Connaught Place to Agrasen Ki Baoli. One of the oldest and best-preserved Baolis of Delhi. Next, we will visit the Dhobi Ghat – a well-known open air Laundromat where washers, (locally known as Dhobis), work in the open to wash the clothes to make a living.
The cycling environment in Delhi is truly great and the number of individuals who have taken to recreational and expert cycling in the city has expanded exponentially in the course of the most recent couple of years. Venture out promptly in the first part of the day, towards India Gate, Rashtrapati Bhawan and Rajpath, and you will see cyclists riding their quality machines. Likewise with most different urban communities around the globe, the cycling network in Delhi is affectionate and inviting to new cyclists. On the off chance that you are new to the riding, you will before long locate an incredible gathering of individuals to cycle with and on one of the best cycling tracks in delhi. What I for one like about Delhi's cycling society is the nice kinship that we share. The grins and waves I jump on my morning rides from individual cyclists fill my heart with joy.
Dhaula Kuan to 11 Murti on Sardar Patel Marg
While riding from Dhaula Kuan to Gyarah (11) Murti, you will experience a mellow downhill that makes accelerating simple. You will love the speed you gain on this stretch. Add to this the cool air from edge timberlands and you have a quick and windy cycling area promptly in the first part of the day. Perfect to make the correct surge you have to kick off your day.
Najafgarh Wetlands
This street is on the edges of Delhi and associates Dwarka to Haryana. The trail keeps running along the Najafgarh channel. On account of its area, traffic is meager on this stretch and the region is rich green. Lovely dawn, greenery, and a large number of flying creatures make it one of my preferred cycling hotspots in the city. Winters bring a huge number of transient feathered creatures from Siberia and you can spot Northern Pintails, Bar headed geese, among others, here.
Rashtrapati Bhawan to India Gate
This is a great stretch. Remain on Raisina Hill and you will recognize what I am discussing! With Rashtrapati Bhawan on one side, India Gate on the opposite side, and Rajpath running all the way―this is a sight that fills you with satisfaction. Mornings at Rajpath are loaded with cyclists, sprinters, youngsters skating and individuals playing sports. What do you get? A great deal of glad grinning faces and a ton of positive vitality promptly in the first part of the day.
Gurgaon-Faridabad Road
This is seemingly the best street for preparing on your cycle in Delhi-NCR. The street comprises of various tough and downhill areas on which you can challenge yourself and furthermore have an incredible time. Nearly the whole street has woods regions close by, so cycling here is very strengthening. You will meet countless cyclists and sprinters on this mainstream hotspot.
Asola Bhardwaj Lake
This is my undisputed top choice.. There are around seven lakes in the region and, trust me―each one is superior to the next! The rough terrain rock track is ideal for cyclists who appreciate rough terrain or single track cycling. The tough and downhill segments joined with rough regions are simply ideal for trail blazing bicycle riders. Novices may discover this track testing and should stroll over a few areas. The zone is overflowing with feathered creature and creature life and in the event that you are fortunate, you may recognize a Nilgai or Asian eland, porcupines, hares and even jackals. Since the timberland has no vehicular traffic, there is zero contamination on this stretch.
Sanjay Van in Qutub Institutional Area
This backwoods territory in the core of Delhi is a fantasy worked out for any wellness aficionado. There is a rock track running inside the woods which is extraordinary for cycling. The backwoods has a couple Machans (watch towers) that give you an astounding perspective on the encompassing territory. Visit this spot and you will be astounded at its excellence.
Aravali Trails
These are rough terrain trails with a lot of tough, downhill and rough winding segments. The territory is ideal for middle of the road trail blazing bicycle riders. Learners will see a few segments as very intense. In any case, all things considered, it is an excellent woods region for cycling. This woodland, similar to the Asola timberland, is likewise loaded with winged creatures and little creatures.
NH 8–from residential terminal mood killer to Manesar
This street is for the street bicycle lover who appreciates fast rides. The street is one long straight stretch with insignificant interruptions and redirections. You can truly speed on this street in the first part of the day and appreciate a quick paced ride.
Dwarka to Sultanpur ride
This is a 65 km circle that I do regularly. The course crosses Najafgarh wetlands, little towns and farmlands. It is a delight riding these streets as traffic is meager and contamination insignificant. The cool morning breeze makes my rides an upbeat undertaking.
Aravali Bio-Diversity Park, Gurgaon
This is an awesome green safe house in a generally solid wilderness. The declining segments inside the recreation center can be very scary for an amateur, however once you get its hang, you will altogether appreciate the undulating way inside the Aravali Bio-decent variety Park. I am certain cyclists in Delhi and NCR have been on some of these streets. On the off chance that you are a cyclist perusing this, why not share your encounters in the remark segment underneath. On the off chance that you are a growing cyclist, join Delhi's cycling network and appreciate these cycling hotspots over the city.
Planning a vacation to India? Know more about us read our reviews on Tripadvisor and tell us more about your travel plans here... We are waiting
!!