Itinerary
Day 1 : Arrival / Cochin
guided tour of Cochin
A cluster of islands and peninsulas where ancient Phoenician, Arab, Jewish, Chinese, and European traders came from afar in search of prized spices, tea, and hardwoods. Here these influences merged with the traditional culture to create a Hindu Renaissance reflected in the town's fine architecture and its perfection of art and dance forms that are a focus of your stay in Cochin. Visit the ancient Jewish Town, the historic Mattanchery "Dutch Palace" and Fort Cochin, the oldest European settlement in India. Photograph the cantilevered Chinese fishing nets and other indelible marks of early traders.
Kathakali dance drama
The power and heartiness of Kathakali dance drama are simply memorable, as it enacts episodes from great Indian epics. The extremely stylized gestures, the elaborate make-up, the masks and the splendid costumes of these all-male dancers, recreates an incomparable sense of pageantry.
Secret Garden
A well appointed and an eco-friendly Homestay. As you negotiate the winding bylanes of Fort Kochi to reach Secret Garden, it strikes you how apt the name is. The small lane gives no indication of the oasis of charm that lies at the end. The original house is 100 years old with two floors typical of the 19th century style, where, many windows were built to allow cross-ventilation. A small pool shimmers blue in front of the house. At the back, the serene garden has a circular yoga area around an old mango tree. You will also enjoy the wholesome breakfast with homemade bread, organic jams from the mountains, along with strong hot coffee. For the weary minds and bodies rejuvenation is to be had at Secret Garden where you could attend morning Yoga sessions, and, undertake Ayurvedic massage treatments at the healing center close by. A place big enough to ensure privacy, but, small enough to feel at home. This is what would make your stay at Secret Garden a truly memorable experience.
Mid - Morning arrival, Meeting and assistance upon arrival as our representatives welcome you and escort you to your car.
Welcome to India, or as we say 'atithi Devo bhava' (the guest is an incarnation of God). Thank you for giving us the opportunity to serve you!
After breakfast, we will proceed on a guided tour of Cochin
Evening, we will witness the strength and vigor of Kathakali dance drama.
Overnight at Secret Garden (Standard Room) (No Meals)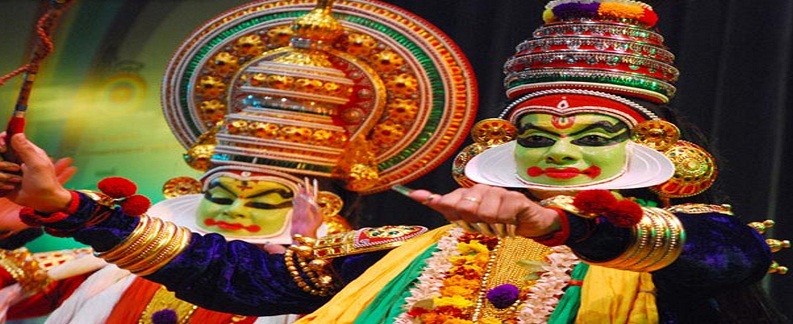 Day 2 : Cochin / Kumarakom (50 Kms) (01 ½ Hrs Drive) (Mattancherry Palace is closed on Friday and Jew Town is closed on Friday and Saturday)
Coconut Lagoon Resort
This wonderful backwater resort is hailed as a "Living" Kerala village re-created with real old Keralan homes, some dating back to 200 years. At Coconut Lagoon, you have everything that you expect from a Kumarakom experience, but much more by way of peace, freshness, tranquility, and, total privacy. The rooms of this heritage bungalow are well equipped with all the modern facilities backed by the special quality of Indian hospitality. Also, you can go out canoeing along the lakes and streams of this delightful resort.
On arrival in Kumarakom, check into the Coconut Lagoon Resort, Kumarakom which has rightly carved its place among the top heritage resorts of the world.
The rest of the day is at leisure.
Overnight at Coconut Lagoon Resort Houseboat (Heritage Mansion) (B)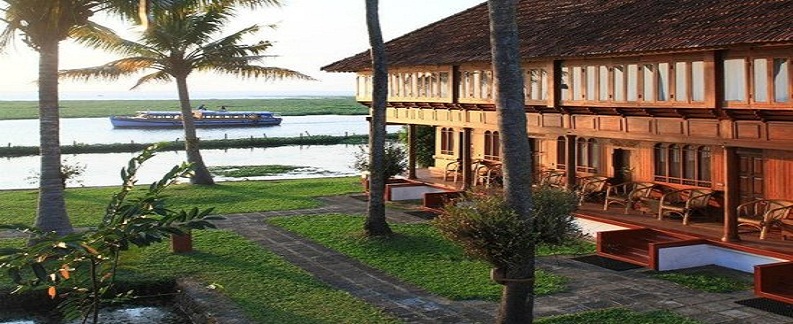 Day 3 : Kumarakom / Kumbalangni Village / Houseboat
houseboat
The materials that go into the making of houseboat are all local and Eco-friendly; bamboo poles, coconut fiber ropes, bamboo mats carpets etc. The main wood used is "Anjali ". The Houseboat provides all comforts - Beds, a kitchen, western toilets and an upper deck. Traditional lanterns are used as lights. The cuisine is of traditional Kerala flavor along with the local Specialties - delicious fish and prawns.
traditional lifestyles and occupations
As the Central Government have been taking various initiatives to promote rural tourism in India, Kumbalangni has been selected as the ideal destination to represent India's village tourism. This coastal hamlet provides an enthralling glimpse of the simple and prosperous living of the villagers, and also unravels the age-old, magnificent cultural heritage of the place. Once you enter into the village, you have many activities awaiting for you.
At The Top Of A Coconut Tree
You are now hopefully ready to immerse yourself in the traditional richness of this beautiful village. Learn how the times changed, as the local farmers will show you two ways of climbing a coconut tree - the painstaking old way with a thalappu, and the modern way using the latest instruments. At the end of this enriching session, treat yourself to fresh tender coconut.
Taste of Tender Coconut
Now, get a chance to take a glimpse into the life of these simple villagers of Kerala. Take pleasure in the beauty of green paddy fields in a house of a local villager. Also, taste some sweet coconut water and tender coconut while here.
Toddy Tapping
Continue with your delightful journey and reach the next stopover, a coconut grove. Learn how toddy being tapped from a coconut tree. Besides, if you feel like you can even taste this famed Kerala beverage, fresh out of the pot.
Coconut Weaving
At this time, learn the art of waving coconut leaves as well as you can also try your hand at it.
Net Fishing
Accompany the villagers as they take you in the local pond to provide you with some tried and true fishing tips. Watch in wonder as one of the villagers casts a net and catch a few with ease.
This morning, we will go on an excursion of Kumbalangi village where we witness traditional lifestyles and occupations.
Following the tour, we ride to Alleppey for a houseboat experience through the narrow canals and channels of the backwaters of Kerala.
We spend the day Cruising on our boat through remote tribal villages along the tranquil backwaters of Kerala is a superb experience.
Overnight Aboard Lakes & Lagoon AC Deluxe Houseboat (B, L & D)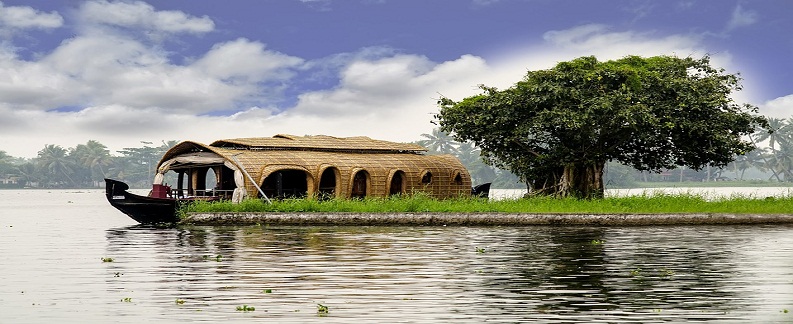 Day 4 : Houseboat / Alleppey / Cochin / Departure
Today will disembark at Alleppey and drive to Cochin airport to board your onward flight.
Upon arrival in Cochin transfer to the airport to board your onward flight.
No Hotel quoted for this day