We at Trinetra Tours believed that there is that special something India has to offer to the discerning traveller that would tickle travel taste buds most fondly. Since, its February one can feel the love in the air, we thought of suggesting some beautiful activities for you and your partner that should be on your to do list to experience at least once in a lifetime.
Sometimes, we seek happiness where it can't be found. And when it is about a loving relationship, we should never ever forget that even the simplest of things can become a special experience where you are sharing it with your love. Love and happiness only grow when they are shared with your loved ones. Following are a few ways to rekindle your love for each other once again:
1. Taj at sunset & a royal Buggy ride
when talking about love, how can we skip the Taj Mahal? So, the first thing to do for couples on our list is to bask in the glory of the greatest monument of Love – The Taj Mahal in Agra. A guided tour will allow you to know the real love story of Emperor Shahjahan and Mumtaz Mahal and some mind blowing facts about the Taj Mahal itself. The view at Taj Mahal during the sunset is breathtaking as it looks gorgeous orange in colour. And you definitely can't miss a buggy ride in the evening with your partner while enjoying the streets of Agra. Besides, the ride will be as much fun for you as for the onlookers. There would be hand waves, giggles, and laughter!!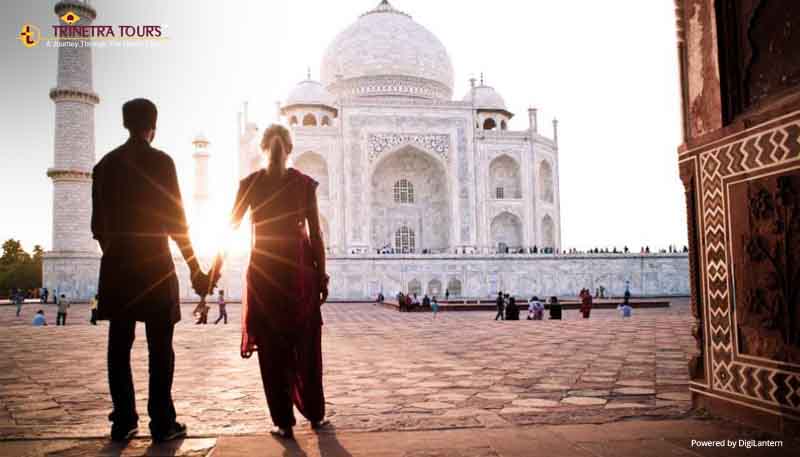 2. Get married all over again in a local temple in Jaipur (mock wedding)
It is a thrilling experience to know the different cultures in the world. Every country, every religion, every community has different traditions. If you are an enthusiastic couple, you must experience getting married according to Hindu tradition in India – a ceremony which involves chanting of Vedic Mantras around the holy fire by a Hindu Pundit. This will not just be a mere cultural experience but will certainly intensify the love that you share.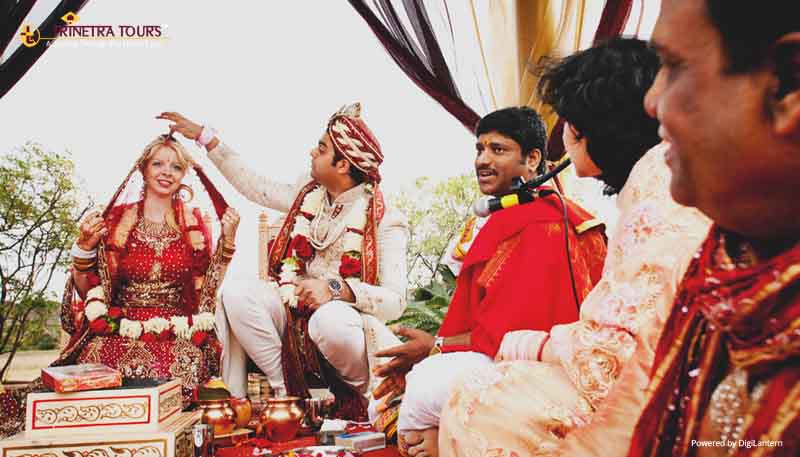 3. Sweet nothings at Lake Pichola in Udaipur
If you are willing to spend some lone time with your spouse, Lake Palace Udaipur is one of the most romantic places in India where you can take pleasure in the company of your partner while surrendering to the tranquillity of the place. This is a 250 years old palace which floats in the middle of Lake Pichola and offers you to go boating with your love or do a candle light dinner. So, live your fairy tale.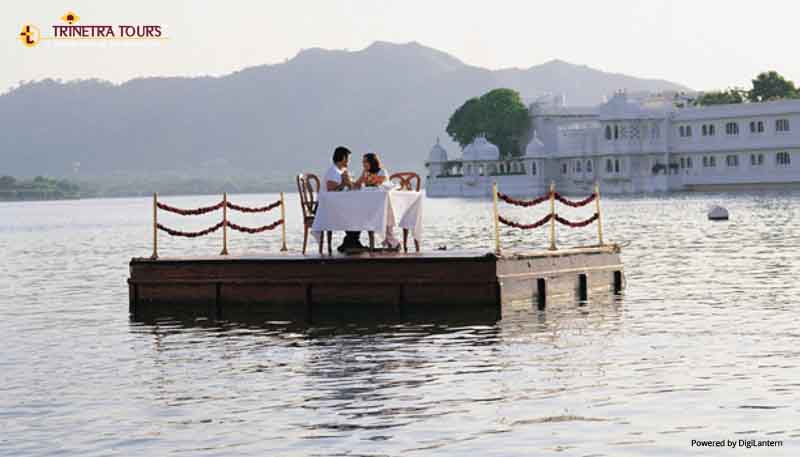 4. Shikar dinner in Mihirgarh
The delightfully serene surroundings of the desert make it a perfect getaway for a romantic holiday with your partner. The Mihirgarh treats you with its majestic hospitality and impeccable services. The Food is perfected to an art at Mihirgarh. Unique recipes are served amidst the peacefulness that only the outback brings. The concept of Shikar dinner takes you back in time when Maharajas came for hunting (Shikar) and had lavish dinners. So, the place is a perfect blend of opulence and traditions of India.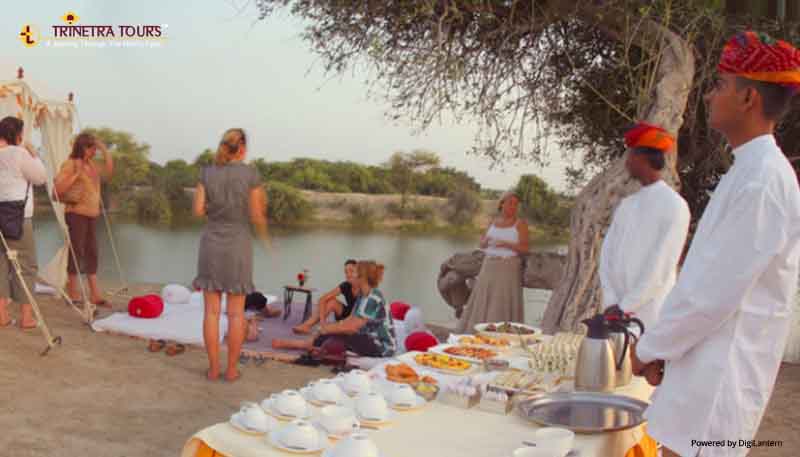 5. Take a cooking class together in Jodhpur
Learning something new is always exciting and when you do it with your partner, it becomes all the more fun. How about learning authentic Indian cuisine? Trinetra organizes special interest tours where you and your partner can take cooking classes with local people; learn about the local fruits, vegetables and spices which come together to create various sumptuous meals.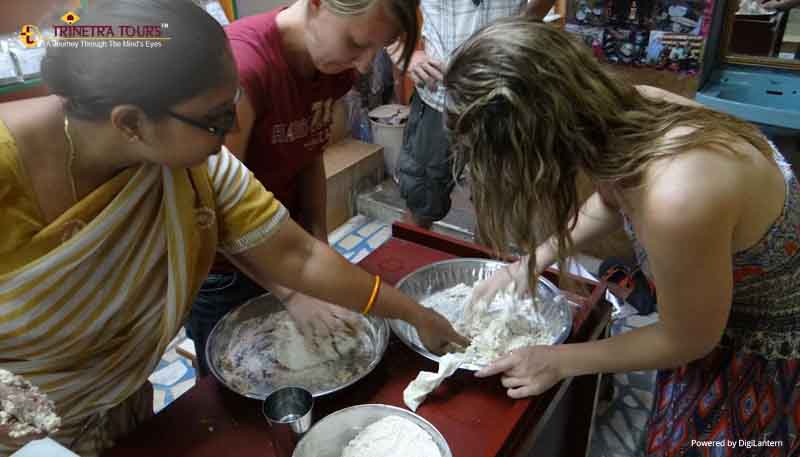 6. Spend a night under the stars in Jaisalmer
Being in the lap of nature automatically makes you feel at peace. What better than enjoying the camel safari during day and spending the night under the stars with your spouse and walking up to the mesmerizing beauty of sand dunes in the rising Sun.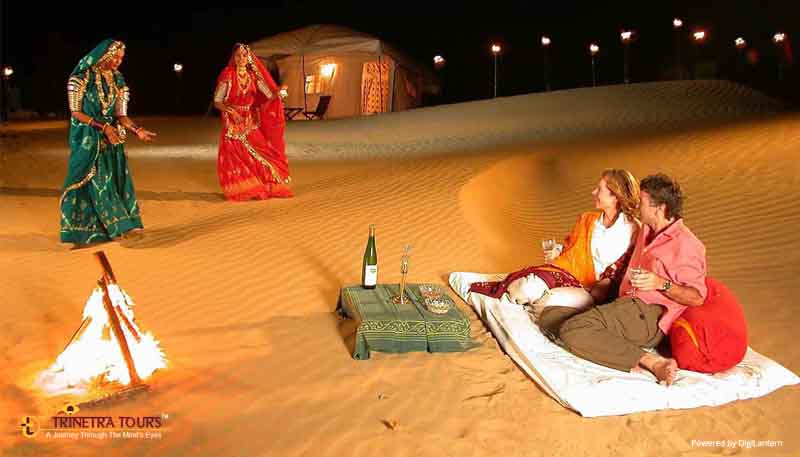 7. Learn a few Bollywood steps together in Delhi
Like we said before, taking up anything new with your partner will be a fun activity as well as a great medium to connect with each other on a whole new level. If the Indian festivities – dancing, singing or Bollywood movies fascinate you, we suggest joining a Bollywood dance class. Dancing is always romantic but Bollywood dancing has its own version of romance which remains unmatched by any other film industry in the world. It will be like a romantic joy ride for the two of you.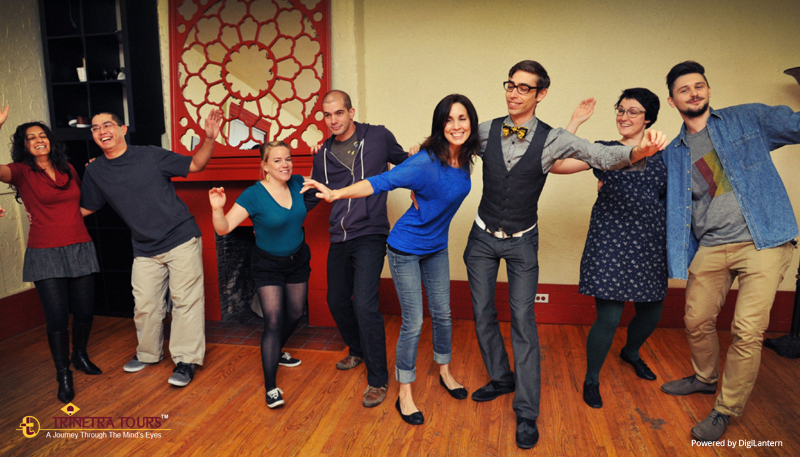 8. Yoga classes in Agra
If you're the kind of couple who seeks pleasure in fitness and always yearning to learn new activities to keep yourself fit, then Yoga classes can be a brilliant way to achieve new fitness goals as well as relax & stretch while on vacation. It will be a different experience altogether. Yoga not only keeps you physically fit but also helps you attain peace of mind and experience spirituality.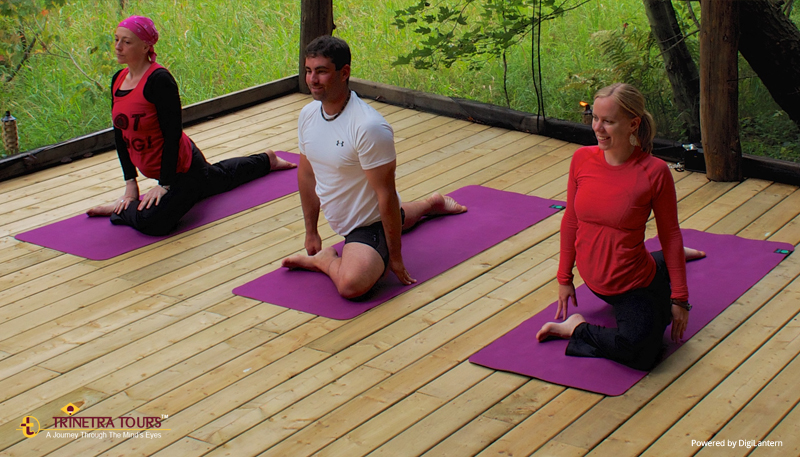 Do you have any questions to ask or want us to suggest more such activities/Places? Please e-mail us at info@trinetratours.com for information regarding bookings.